Gayle V's Best Ever Grilled Cheese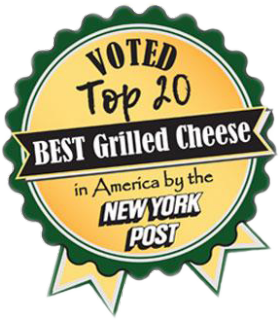 Monday - Friday
8:00 am - 4:00 pm
108 N. State Street
(312) 285-2202
State Street location only
Lincoln Square Popup
4613 N.Lincoln Ave
Wednesday - Saturday
11:00 am - 7:00 pm
Mobile App and Delivery
We now have our own Mobile App you can download!
Gayle V's Best Ever on both Google Play or the App Store! Save $ for signing up and more when you place your first order. Whoohoo!!
Earn points to redeem discounts and even get a free Classic grilled cheese on your birthday (I know, sounds crazy!). We have pickup, curbside pickup and delivery (within 1 mile of Block 37) by Gayle's staff. We are also using MealPal, Ritual, GrubHub and now UberEats pickup and delivery. Don't forget you can always call and place your order too (312) 285-2202.
click here for qr codes
Farmer's Market News
I do have other options for ordering for delivery through Green City Market on the What's Good App. You can order Friday mornings starting at 8am (order early - slots fill up fast since they only take so many delivery orders.) Now they are offering pickup at the Goose Island Brewhouse. Friday orders will be filled for the following Wednesday. You can also order Tuesday morning for the following Saturday morning. I am offering more items off the menu so watch for updates or email me if you are not seeing the sandwich you are missing.
NEW!! NEW!! NEW!! NEW!! NEW!!
I will also be filling orders for the South Loop Thursday farmers market. They will also be using the What's Good app for online orders. They are not starting up until May 21st so watch for the startup. The same options on the Green City Market page will be offered for the South Loop Market.
I'm so excited for everyone there to get to enjoy my grilled cheese.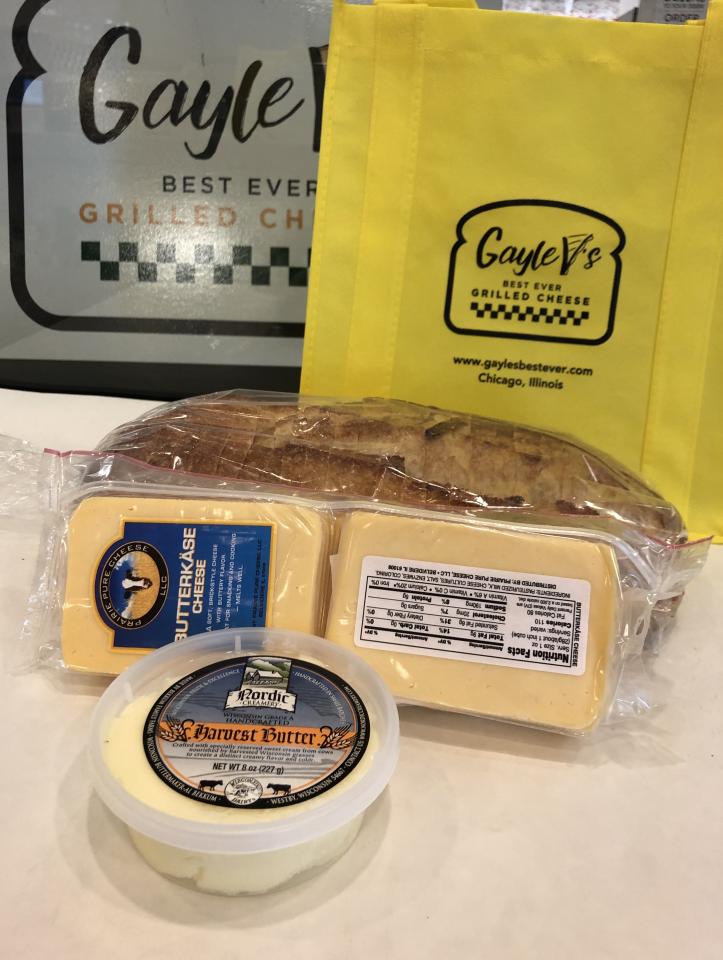 ALSO, MORE BIG NEWS!
Are you looking to feed a group (or do you just love my grilled cheese)? You will now get sliced Butterkase in the To Go Bag. That makes it even easier and faster to make your grilled cheese. The kit comes with my yellow bag, a tub of fresh Nordic Creamery Butter, a loaf of fresh baked white sourdough bread from Bennison's Bakery and a pack of 16 slices of Prairie Pure Butterkase cheese.
Enough to make 9-10 sandwiches. Enjoy!!
Welcome to
Gayle V's

Are you looking for a great sandwich shop in the Chicago, IL area? Are you passionate about local sourcing and supporting farmers? Do you love the experience of a homemade grilled cheese sandwich? Stop by Gayle V's Best Ever Grilled Cheese, where you'll find all this and more! Our breads, cheese, butter, meats and vegetables are all local and farm fresh, for a unique, memorable dining experience that's more than just a sandwich: it's a grilled cheese with purpose. Our restaurant patrons directly help support our local farmers when they enjoy our sandwiches and soups. Nothing beats warm, crispy bread toasted to perfection in our panini presses and stuffed with creamy, gooey, melted cheeses. Come see why we were voted one of the top 20 grilled cheese in the country by the New York Post.