Gayle V's Best Ever Grilled Cheese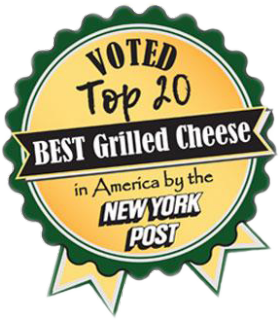 Gayle V's Best Ever To Go Bag - $35.00
If you would like to have me send you a Best Ever To Go bag just email me and I will contact you to get all the information I will need so I can priority mail it to you. I hope to have an ecommerce page soon with other items available too.
The To Go Bag now has sliced Butterkase cheese instead of 2 blocks. It is much faster and easier to make the sandwiches. It also has the Gayle V's yellow bag, fresh baked white sourdough from Bennison's Bakery and fresh butter from Nordic Creamery. If you need a jar of smoked onion marmalade or a pack of bacon, dozen of farm fresh egg we can add it to the bag. Feel free to call and place your order as well (312) 285-2202.
Postage is $18.50 and will arrive in 2-3 days after I send it out. I try to get it in the mail 1-2 days after you contact me.
Makes a great birthday gift for the grilled cheese lover in your life, new baby gift for the busy mom or a great house warming or moving day gift, or just for yourself.
Email Us!